Online sex doll scams are everywhere. Bad merchants use human psychology to steal buyers' money. The ultimate anti-scam guide 2020, however, will help you identify scams, and buy a high-quality sex doll.
Before introducing the anti-scam guide, let's talk about two buyers' experiences with scams.
First Story
John was searching Google for inflatable dolls one afternoon. At first, he wanted a silicone doll, but it was too expensive. Therefore, he changed his mind to a high-quality inflatable doll. John saw an advertisement and entered the website from the ad. On the website's banner, he saw some solid silicone dolls for a very low price (only a little more expensive than the inflatable ones). Because of the price and an introduction video, John was very interested in the dolls. It was the first time John had seen the video (later he found out that it was from 2014). The dolls were very attractive, and the video said that dolls feel better than real Ladys.
Generally, the website was created very professionally, and it didn't feel like a scam. The website also had the seller's product quality guarantee, and 15-day, no-reason return policy.  There were more than 30 types of dolls, all with the same picture formats and styles. When John noticed the aforementioned things, his confidence in the website rapidly increased.
Then John contacted online customer service. Most of his questions were explained very well, but there are some questions to which he didn't get responses. At the time, John thought that online customer service was busy answering his additional questions, and he wasn't suspicious. Then, John placed an order without suspicion for an $880 lifelike silicone sex doll.
When the package arrived, John opened the package immediately and smelled a strong plastic odor. He could not believe that the doll he received was inflatable, not solid silicone.
After he took everything out of the box, John discovered that the doll was very ugly, and only the hands, feet, and head were made of silicone. John immediately contacted customer service, however, he didn't get a response back. Finally, John realized it was a scam!
Second Story
Thomas was cheated one time when he bought a sex doll. Therefore, he studied several anti-scam articles and videos. This time, he was confident about buying a sex doll, however, he was cheated again.
Thomas clearly knew what he wanted, and then he searched for it on Google. Eventually, he found his ideal doll at AliExpress.
He checked the store in detail; it had been a seller on AliExpress for four years with a lot of positive customer reviews. He placed an order with a note to the seller that said he wished to receive a doll the same as the one in the product picture. He contacted customer service in detail and confirmed the shipping speed. Customer service also promised that the doll he ordered would match the product picture.
When Thomas received the doll, he realized that he was cheated again. The quality of the doll was even worse than last time. The doll's head, skin material, and skin color were quite different from the product pictures. The doll's body was so stiff that Thomas couldn't change its position. Thomas went to customer service for help.
He told them that the doll he received did not match the product pictures at all. The customer service representative, however, replied to him saying that the doll he received was lifelike and perfectly fine.
Finally, Thomas understood that he had been cheated.
You may have had the same experience as the two stories above, and you may have been treated poorly in other ways. Now, Mailovedoll offers you some anti-scam tips to help you save your money.
Today's common scams
Pictures that do not match the real product. This is one of the most common scams, where sellers trick buyers with manipulative pictures. Once the payment is made, the doll received can be completely different in appearance, the material used, and even in size.
Customers who make an order online (through a website or online store) never receive the doll sent by the seller. The seller maintained a good relationship throughout the buying process, but blocks the buyer immediately after receiving the payment.
The seller will get a real head from the brand manufacturer, and ship it out with a fake doll body (the real doll body is soft and elastic, and the breasts and hips should bounce when spanked).
The fake sellers will order real heads and bodies, then re-assemble them.
A clear understanding of your needs
When buying a sex doll, first you need to understand what you want, such as how the sex doll looks, its height and weight, etc. (You can check out this article to find out how to determine your needs) For example, a 172 cm sex doll might weigh about 90 pounds. If you don't anticipate the weight, you may regret buying it when you receive such a heavy package. Therefore, don't buy any sex doll with big boobs. Make sure you know your needs and capabilities first.
Choose a store you want to visit
Places where you can buy sex dolls include physical stores,platforms such as Amazon, Alibaba, and Ali-Express, and online sex doll stores.
You can choose a physical store, but the sex doll inventory will be very limited.
Mailovedoll highly recommends NOT to buy dolls from large platforms such as Amazon, Alibaba, and AliExpress, because most of the sellers there are scammers. The pictures you see are silicone dolls, but the actual doll you receive could be an inflatable doll (like in the story above). The prices are usually very cheap. Silicone dolls are often listed for less than $1,000, however, the cost of making a real silicone doll is more than $1,000.
An online sex doll store is a great place to find your favorite doll. Most online stores offer basic or comprehensive customization (such as the customization service offered by Mailovedoll), but you need to check the store carefully to avoid being scammed.
In addition, we don't recommend that you buy sex dolls from some forums or Q&A websites, because you can't judge the sex dolls there.
Don't trust the website's reviews
The reviews can be divided into two categories.
1.Fake customer reviews
The primary purpose of these sex doll reviewers is to promote the products to people who trust them (like you). In fact, you'll see the membership links provided with their reviews. If you click it and buy from the link, the reviewer receives a commission. That's why they entice you to buy a sex doll. Your trust will contribute to their bank account.
Now, we cannot say that all sex doll reviewers spread malice online. You can trust some websites, but most of them aren't doing what they should be doing, which is providing you with real information about the sex doll. Those websites respect profits rather than the readers.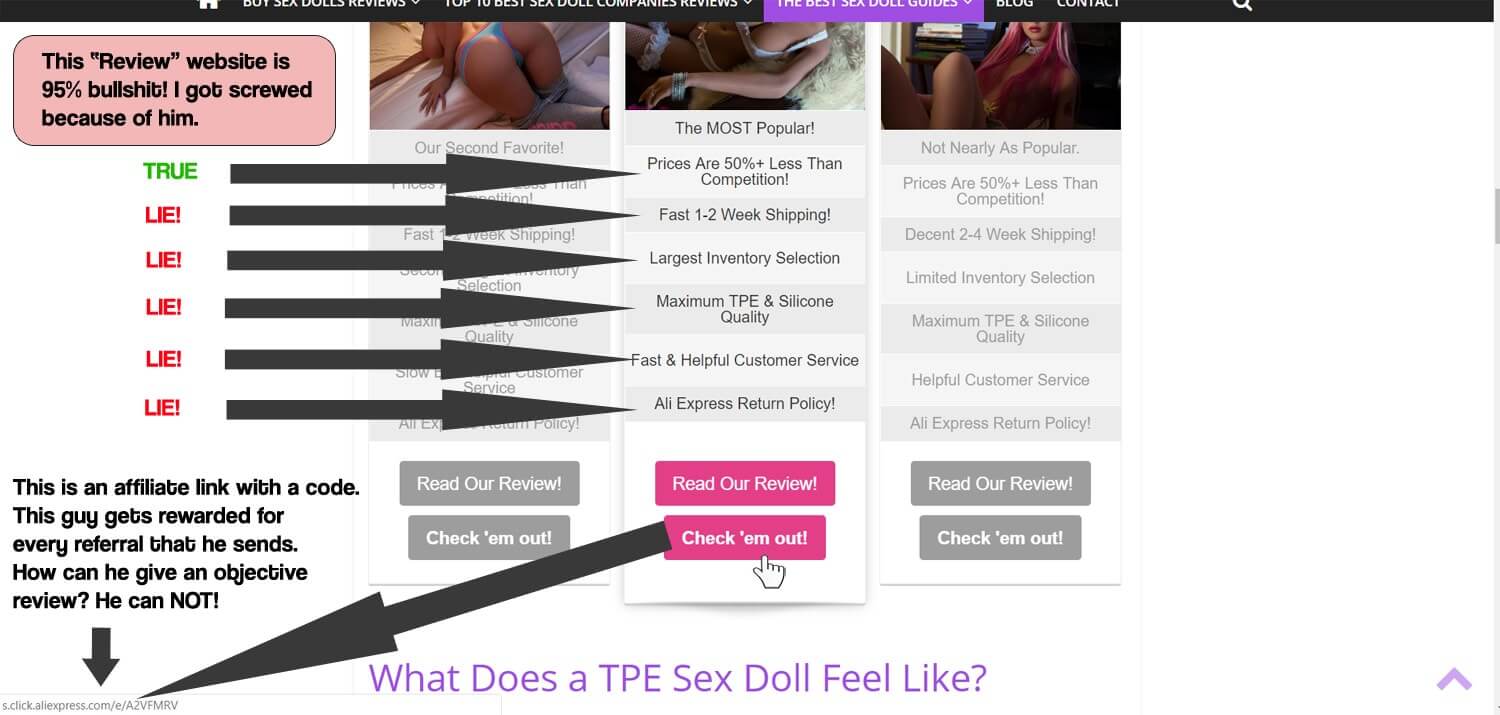 For example, some review websites have very limited product information, and instead, lots of product links. They never mention the brand of the product, parameters, and other important information.  If you know a site like this, please be careful.
2.Reviews on sex doll websites
Nowadays, a lot of websites related to makeup, skincare, and fashion & accessories have fake reviews that help to make the products look better.
Fake reviews are easy to spot because the reviews don't look like they are written by real customers. Some fake reviews are very general and barely say anything useful. You must be realistic about sex doll reviews. It's not something that millions of consumers buy every day, such as cosmetics or clothes.
For example, if you see the commonly used review phrases such as "very good doll," "would like to buy again," and "love it so much," they must be fake. There are also some products that have dozens or even hundreds of reviews, which is also untrue. The aforementioned fake reviews are easy to spot, and you don't have to worry about them.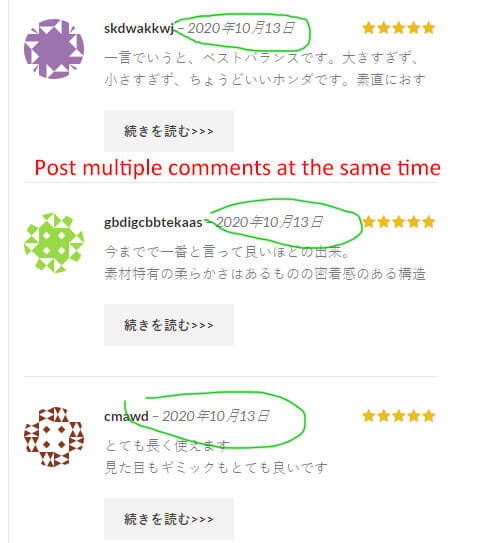 You can also visit the Doll Forum, which is the world's largest and most authoritative sex doll forum, where you will receive help and support from many sex doll owners.
Price
First, you should understand that most sex dolls on the market are now made of TPE or silicone material. TPE sex dolls typically cost between $1,000 and $2,000 depending on the doll's height and weight. Silicone sex dolls are typically more than $2,000. You can learn more about the doll materials so that you can ask customer service professionals questions to judge the authenticity of the website.
1.Super low price
When comparing sex doll websites, many people use price as the main factor. It's an incorrect and dangerous approach because, in most cases, even if you see the same fantastic pictures, these low-priced websites won't offer you the same quality dolls. Don't make the price the main parameter in judging the competitiveness of a sex doll website.
When the manufacturer makes dolls, there are always many defective dolls. There may be some issues in the doll's head, cup size, or other parts. To make more money, they set up a company to sell the defective dolls at a very low price. By looking at the pictures, you may feel like you have a great deal, however, the doll will soon be abandoned in your bedroom.
When buying a sex doll, many people will look for cheap dolls. You should know that you will get what you pay for. You can't expect to find a high-quality sex doll at a very low price, so don't look for the cheapest doll on the market.

2.Discounts
Most sex doll buyers want huge discounts on sex dolls. Some well-known sellers often offer discounts and promotions. You'll find that discounted dolls are significantly cheaper. If you've found something similar, please don't buy from the website, because decent sex dolls made with premium materials like silicone and TPE aren't cheap.
If you want to buy a solid doll, you can do some research on the doll you want to buy, so that you know roughly how much it will cost. You can compare the product in multiple stores, knowing the price range and material. Scammers usually promise 50% off the market price, which should be a sign of danger. If the average price of the same sex doll is two-to-three times the doll price they offered, the authenticity of the seller will be questionable.
The principal is "you get what you paid for." If you want a premium doll, you must pay for it. If you see the same doll advertised elsewhere for a lower price, you should be aware. You may want to check to see if the supplier paid all the import duties. If not noted, your doll might be held by customs, which will make it cost more to reach its destination. If you are buying a doll for the first time, it is recommended to buy from a trustworthy website (like Mailovedoll, etc.).
Please remember not to buy a doll at websites with super low prices (under $800, or even under $500), and don't go to websites that offer huge discounts (more than 20% off).
If a seller says it will take a long time to ship the package, it means they don't take their business seriously. They don't want to invest money in their business. You must make sure the seller delivers the doll quickly, because this means the seller has the doll in stock. Besides, after proper inspection, the seller will ship you the doll. Please keep that in mind.
Contact customer service
Before making an order, you should try to contact the seller. If the seller does not respond to your email or phone call, that is a red flag. If the seller does respond, you can ask questions about the ordering and delivery process, processing time, and factory pictures and videos. You can also ask questions that aren't answered on the website, and you will know whether the seller knows the content or not. A good seller will respond to your questions in full, and you will also be able to tell the seller's level of knowledge from the answers. If the seller is unable to respond to you or if you cannot contact the seller, you should stop buying sex dolls from that seller immediately, because customer service is a core factor for a reliable seller.
A real seller will tell you everything about your doll by email, such as if they are making progress, whether it cleared customs, and the latest shipping information, all in a timely manner. At Mailovedoll, when you place an order, we will send you an email indicating that your order has been accepted so you can check your order number. Once your doll ships, we will inform you of the tracking number by email. You can also use your order number and mailbox to check your order status on the order tracking page.
Check the seller's website
The official website is very critical. Does the seller's website URL start with HTTP or HTTPS? The HTTPS means that your personal and financial information is encrypted and secured. In addition, check to see if the URL contains the name of the company. Most scammers' web addresses do not state the identity of the company.

Check the information accuracy and image resolution. Are the images unclear? How precise are the provided sex doll specifications? Are the body parameters of the sex doll included in the specifications? For example, most scam sites contain conflicting information and unreal images.
When browsing descriptions or posts on the sex doll website, make sure to read through the sentence and pay attention to the details. If there are a lot of typos, misused words, or incorrect sentences, maybe you should stay away from that site. If you see something you really like, try to communicate with the seller, making your decision based on the outcome of the conversation.
In addition, be aware of the professionalism of the website and the graphic design (pictures shouldn't be scattered everywhere). If some links don't work or categories don't show up correctly, you can make the conclusion that the company's business attitude is questionable.
Sex doll brands
Do not shop at websites that don't have brand names. Websites that offer unbranded dolls are fake, or the dolls are duplicated. Some websites often post real manufacturer images to attract you, but provide you with unbranded replicas of a low quality. You'll notice that they use real images, but never mention the brand in the doll description.
Contact the doll brand you're interested in and check if the seller is authorized. They will be more than happy to provide the information, because they don't want you to buy their doll from an unofficial seller, which will hurt the brand reputation. For example, WM will provide a code at the time of purchase to verify the sex doll. You can also check to see if the website has information like brand authorizations. For example, at Mailovedoll, you can find information about the brands, factory pictures, brand authorizations, quality inspection certificates, and much more.
Payment methods
This is probably the most critical part of the whole process, and the most interesting part for the scammers. Typically, legal sellers offer a variety of payment methods to meet the needs of their customers. Make sure you buy from a seller who accepts multiple payment methods.
For example, Mailovedoll offers multiple payment methods, such as Visa, MasterCard, etc.

Because PayPal refuses payments for adult products, most sex doll stores are now unable to accept PayPal. Mailovedoll, however, still provides as many payment methods as possible to meet the needs of different customers. When paying with a credit card, you don't need to worry about being scammed, because the credit card company will protect your payment.
Talking to other buyers
As the saying goes, two heads are better than one. It is important to consult others before buying a doll. Opinions and experiences may help you in making the right choice. Mailovedoll recommends you write a post at dollforum to verify the authenticity of the website you are interested in. You'll receive a lot of answers from doll enthusiasts and buyers, which can help you make the right decision.
Lack of product details and description
If the website you visited is packed with pictures, but lacks doll details, chances are you're about to receive a fake doll. Detailed instructions should include the doll's height, weight, joint movement, and available custom settings. If you can't customize any of the features, you are very likely to receive a different doll, because high-quality dolls always offer options like skin color and nail color. On top of that, poor English usually indicates that the seller is not willing to spend time or money on a copywriter or editor. It may not even be a legal business. On Mailovedoll's product detail page, you can clearly find the various parameters of the doll's body, as well as the basic customization options. You can also read our buyer's must-read guarantee and check the FAQ page for answers to various customer questions.
Shipping speed
Some websites offer stock dolls, which means the doll can be shipped quickly. There are no customization options for these dolls, however, since the features and styles have been fixed already.
If you choose to simply customize your doll, it will take about two-to-three weeks to get from our factory to your door. A doll arriving in less than two weeks should be a red flag, because the doll is likely an inventory doll. The doll with comprehensive customization is made from scratch, which will take a longer time to complete. You should avoid buying sex dolls from sellers who refuse your specific customization requests.
Before placing an order, you should check the refund policy (such as Mailovedoll's refund policy). Remember that you are buying an expensive item and, if a website does not have such a policy, you can forget about that website. The refund policy is one of the very basic service necessities.
Doll damage is unlikely to happen, but no one can guarantee that there will be no accidents during the shipment process. That's why it's important to buy from a seller who is willing to issue a full refund. Occasional human error is possible, such as a doll with the wrong eye color. In this case, it is very important that you can contact the seller to get a refund because the item does not meet your expectation.
The Bottom Line
The above are the anti-scam tips summarized by Mailovedoll, as well as the characteristics of real online sex doll stores these days. With the above information, you can easily figure out the issues with a website and judge the authenticity of the website with confidence.
Do you have more anti-scam tips? You are welcome to leave your comments below to help more customers with buying their real dolls.