Looking to buy a sex doll online It can be like opening a mystery box – you never know if you'll get a good one or a bad one. Unfortunately, many buyers can't tell if a sex doll website is legit or not. If you order from a fake website, you'll likely receive a cheap TPE doll or an inflatable one. These fake sites use stolen product images to lure in customers, and they'll even sell a WM sex doll for $500-$700 – which is clearly impossible.
Just take a look at the comparison photos of real and fake sex dolls below: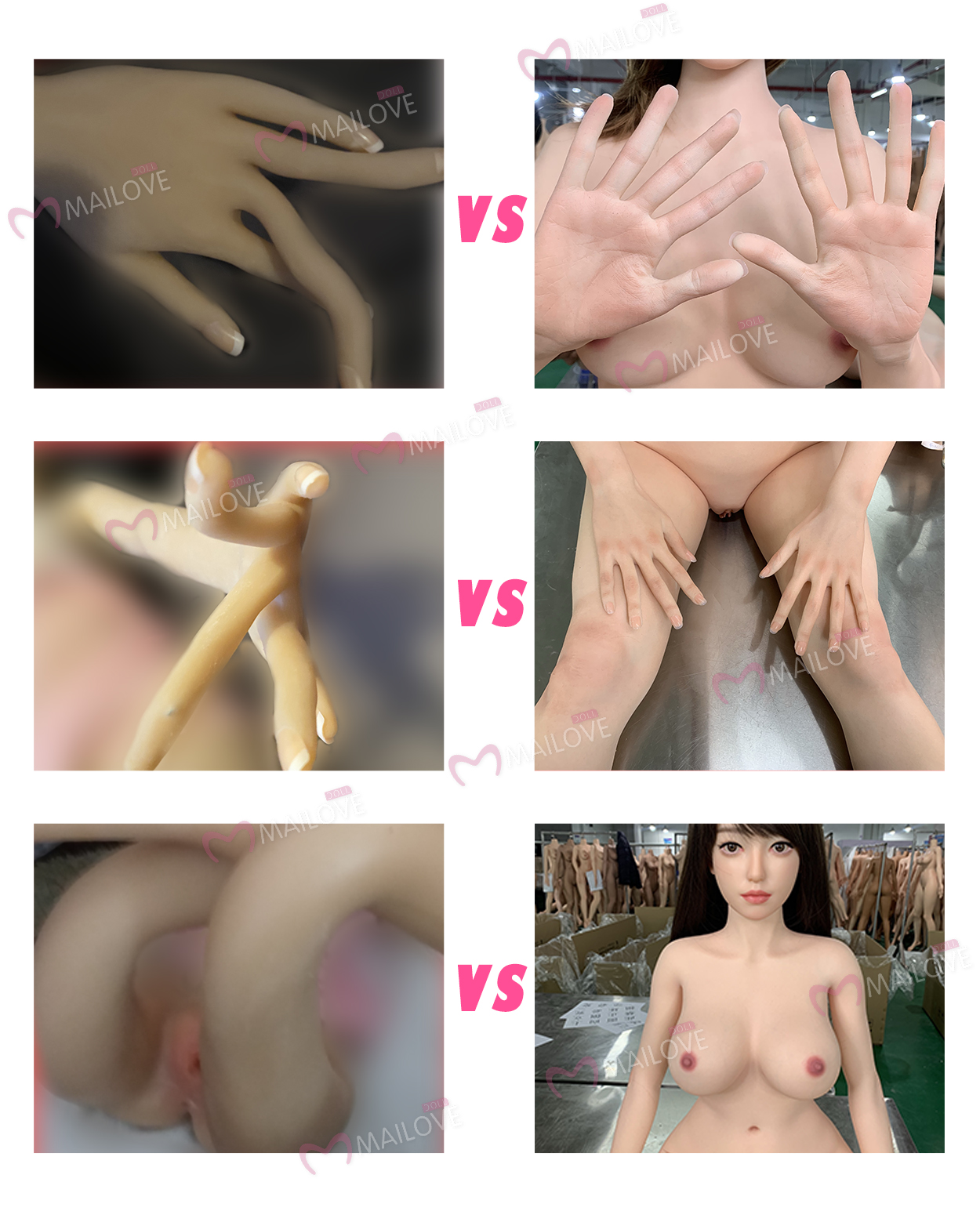 As you can see, the fake dolls look ugly and low-quality, and they're made with unsafe materials and fragile skeletons that can break after just a few uses. No one wants to spend hundreds of dollars on junk!
At Mailovedoll, we've been in the business since 2019 and have built relationships with over 20 reputable sex doll manufacturers likeSE, JY, Irontech, Zelex, and 6YE. All of the dolls on our website are made by these authentic manufacturers. Check out our sex doll factory pictures here: https://mailovedoll.com/sex-doll-factory-pictures/. We never sell fake dolls, and we have enough profit to support our growth. Companies that rely on selling fakes will eventually fade away.
Our prices are the best on the market, and we can guarantee that all of our dolls are authentic. We offer sea shipping, which takes longer but is cheaper, so our prices are lower. We also offer air shipping, but it comes with extra costs. If you find a website that offers the same doll at a lower price, send us the link and we'll help you determine if it's real or fake.
At Mailovedoll, our vision is to offer our customers the best prices on authentic dolls. We have different promotions every month, so make sure to subscribe to our website to receive updates on our latest deals and new releases from various brands.
How to Avoid Being Scammed
Brand Authorization: A legitimate sex doll manufacturer would never authorize a fake website to sell their products. Fake websites have no authorization certificates. Mailovedoll.com, on the other hand, has authorization certificates for brands likeSE, Piper, Zelex, AXB, 6YE, HR, and others. You can view these authorization certificates on the website and also email the official website of each brand to confirm their authenticity.
Product Reviews: Don't trust websites without reviews. Our website features genuine reviews from our customers, some of whom even include pictures of their dolls. Checking out the reviews page will help you make better decisions.
Responsive Customer Service: Many fraudulent websites lack proper customer service, with no live chat, email, or phone support. Once you face any after-sale issues, you won't be able to contact them. Our customer service is always available to assist you.
Beware of Tempting Low Prices: Genuine sex dolls, such as those from WM and SE, cost over $1000. If you find a website selling them for less than that, it's definitely a fake website.
Factory Photos: Before placing an order or shipping, you can ask the seller for factory photos of the dolls. However, some sex doll manufacturers do not provide these photos, such as Xise, Piper Doll, and Irokebijin Doll. These brands will ship the doll directly once production is complete.
Frequently Updated Website: Fake websites usually take a long time to update their content. We recommend choosing websites that are frequently updated, as they indicate that someone is actively running and maintaining them.