On August 30, 2023, Irontech Doll launched its brand-new collection – Real Lady Doll. These products are not just sex dolls; they are collectible works of art, meticulously crafted with highly realistic designs that offer an immersive experience. Real Lady Doll is set to become the new benchmark in the world of silicone sex dolls. Let's now unveil the intriguing aspects of Real Lady Doll.
The Real Lady Series: Exquisite Beauty
Real Lady presents a range of sensual dolls, each designed to captivate your senses and provide an unprecedented sense of realism. While there are currently only a few models available, they will regularly introduce new products, catering to a wide range of preferences. Whether you prefer voluptuous blondes or sultry erotica-inspired designs, you'll find it here.
Pursuing Authenticity: Experiencing Genuine Intimacy
Real Lady is more than just a sex doll; it takes on the responsibility of replicating human body proportions and addressing the industry's shortcomings. Through exquisite hand sculpting and precise adjustments, Real Lady enhances the beauty of the lower body, creating more captivating poses. The brand places special emphasis on ensuring that the doll's vaginal positioning accurately mimics human anatomy to provide an absolutely authentic sexual experience. With Real Lady sex dolls, you can freely explore various sexual positions, from doggy style to missionary and more, indulging in intimate moments that feel incredibly real.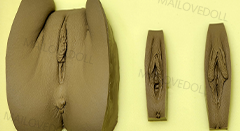 Sensory Pleasures: Lifelike Touch
Real Lady dolls are crafted using premium silicone, delivering an unparalleled sensory pleasure and lifelike aesthetic. While experiencing their exceptionally realistic skin texture, maintenance becomes effortless. By choosing Real Lady, you'll enter a realm of unparalleled authenticity and exceptional craftsmanship, immersing yourself in ultimate joy and connection.
Exquisite Design and Sculpting
Real Lady is committed to perfection in every detail. Each Real Lady doll undergoes meticulous handcrafting, with precise data capture of textures, utilizing 3D scanning technology and human size replication methods. This ensures the faithful reproduction of subtle skin textures, pores, and other details, resulting in seamless and lifelike skin texture throughout the doll's body, including hands, feet, knees, joints, and collarbones. Real Lady's dolls have garnered much acclaim for their hyper-realistic appearance and unmatched attention to detail at the August 2023 Hong Kong Adult Expo.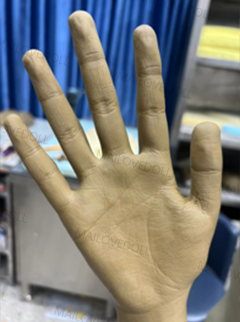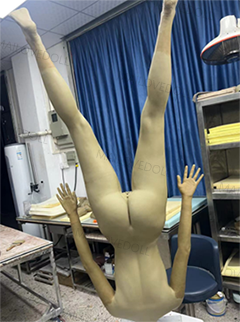 The production process of Real Lady sex dolls includes the following key steps:
Model Collaboration: Collaborating with models to obtain their permission for accurate body replication, ensuring precision.
Sculpting and Molding: Experienced sculptors merge replicated body parts into clay molds, finely adjusting skin textures to accurately reflect the model's features.
Head Crafting: Special attention is given to crafting lifelike heads, where artists hand-carve facial expressions and beauty to ensure each Real Lady sex doll possesses a realistic and expressive face.
Personalization: Offering a range of customization options, including body shape, size, hair color, and style, to meet each customer's unique preferences.
Skeleton Crafting: Crafting a skeleton that closely mimics human body proportions, utilizing double-joint kits to simulate human joint movements, ensuring that the doll has a range of motion close to human anatomy.
Silicone Injection: Injecting silicone into molds to ensure a smooth surface and prevent the formation of air bubbles.
Finishing: Trimming excess silicone material from the body to ensure a flawless surface.
Artistic Makeup: Applying highly realistic spray makeup to showcase veins, pores, and skin texture, with customization based on customer requirements.
Inspection and Packaging: Conducting a final inspection and meticulously packaging each doll to ensure safe and secure delivery to customers.
In summary, Real Lady is dedicated to delivering high-quality, lifelike, and personalized silicone sex doll products through a meticulous manufacturing process.