Mailovedoll Affiliate Program
The Best Sex Doll Affiliate Program.
Join our and start making money Today!   
What will you get by joining us?
1. You will get a 5% commission (with the potential for higher commissions for top performers) for every successful order you refer.
2. Exclusive access to large discount coupons.
(After successful registration, please contact us at info@mailovedoll.com, and we will set up a discount coupon for you based on your situation.)
Why is Mailovedoll the best sex doll affiliate program?
1. Top-notch customer service and low return rates.
2. Get a sneak peek and early access to our latest products.
3. Professional support from our team.
4. Real-time email notifications whenever a user makes a purchase through your link.
5. 30-day cookie duration. Earn a commission within 30 days of a user clicking.
6. Modern and up-to-date affiliate dashboard. Track your clicks and sales with real-time reporting.
What are some ways to earn commission?
1.One of the main ways for affiliates to earn commissions is by recommending our Love Dolls through blog articles. If your article ranks well in Google search results for sex doll recommendations, the amount of money you can earn will be huge. As for how you can write a good article recommending sex dolls, you can refer to the top 10 articles in Google search results for sex doll recommendations, which will be of great help in writing your article. You can publish your article on your own blog site or submit it to other blog sites. Once someone successfully purchases our Love Doll through your blog, you will receive a 5% commission.
2.Another effective way to earn commission is by promoting our Love Dolls on social media. You can post pictures, videos, and text related to Love Dolls on various social media platforms such as Twitter etc. If someone shows interest and makes a successful purchase of our Love Dolls, you will receive a 5% commission.
How does it work?
1. Register and create your account.
2. We will automatically approve your account and notify you by email.
3. Our system will automatically generate a special link for you that you can post on your blog or website.
4. You will receive a notification as soon as a user makes a successful purchase through your link.
5. We will pay out your earnings at the beginning of each month.
Onboarding Process:
1. Click the START MAKING MONEY button to be directed to the registration page to fill out your information. As shown in the following picture.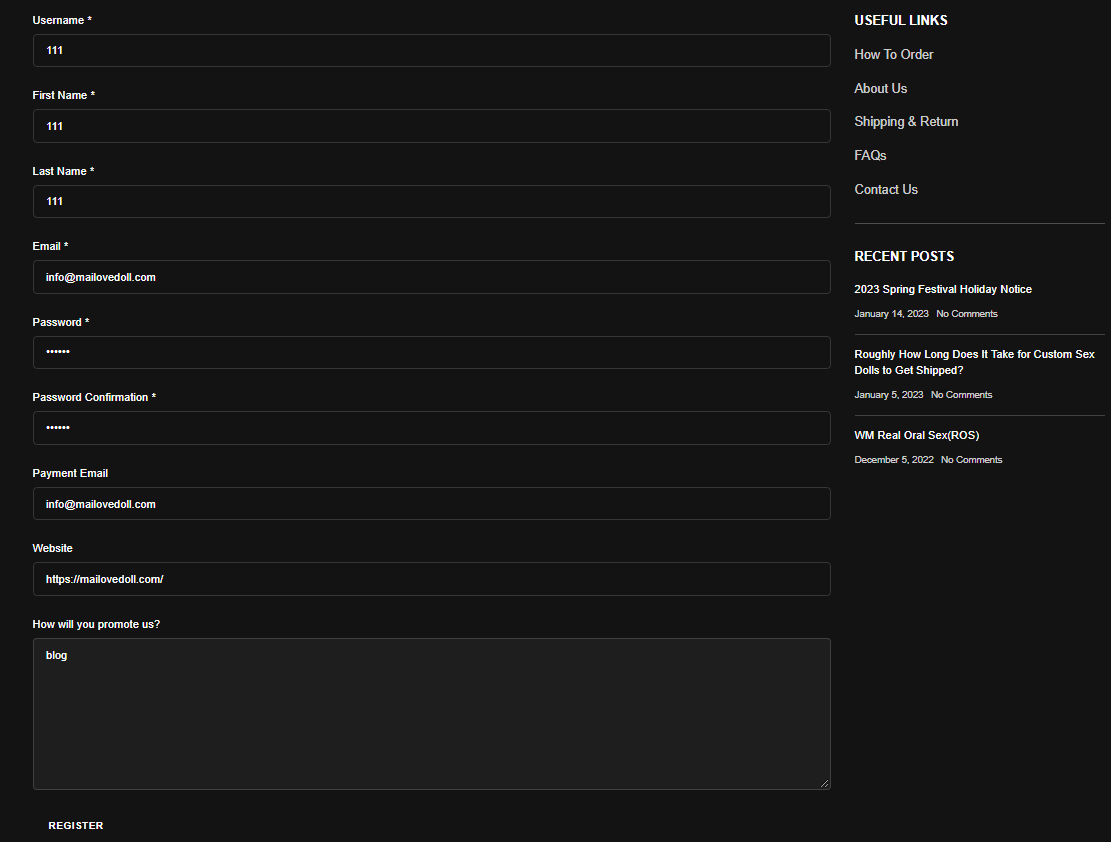 2. Once you click the REGISTER button and successfully submit, you will be directed to the following page. As shown in the following picture.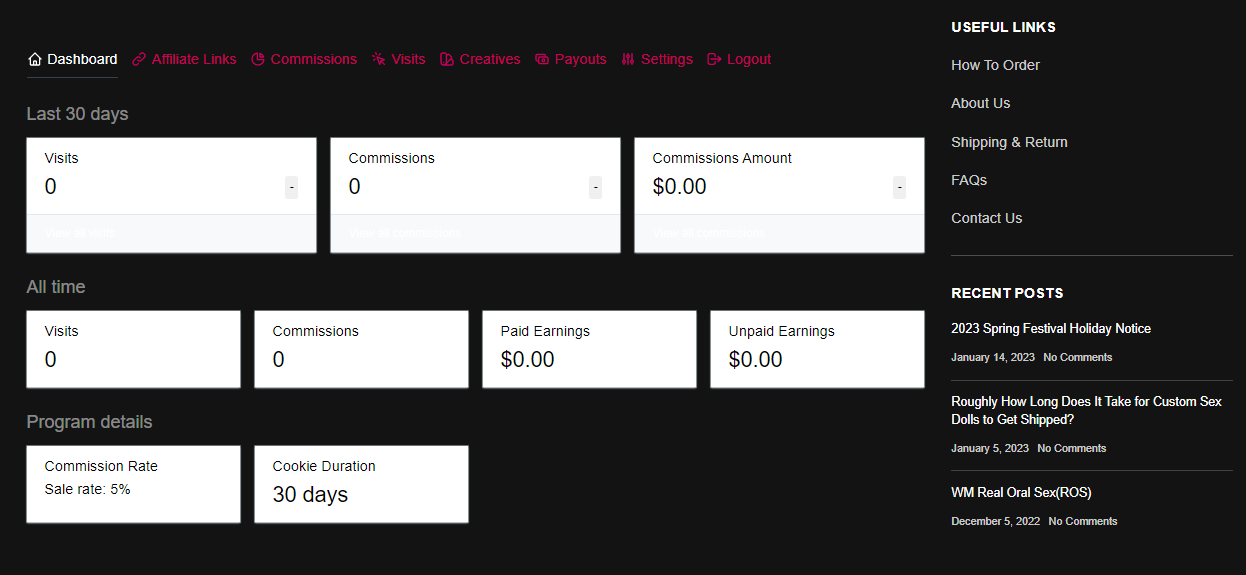 3. By clicking on the "Affiliate Links" section, you can use the first system-generated link or create an exclusive link. As shown in the following picture.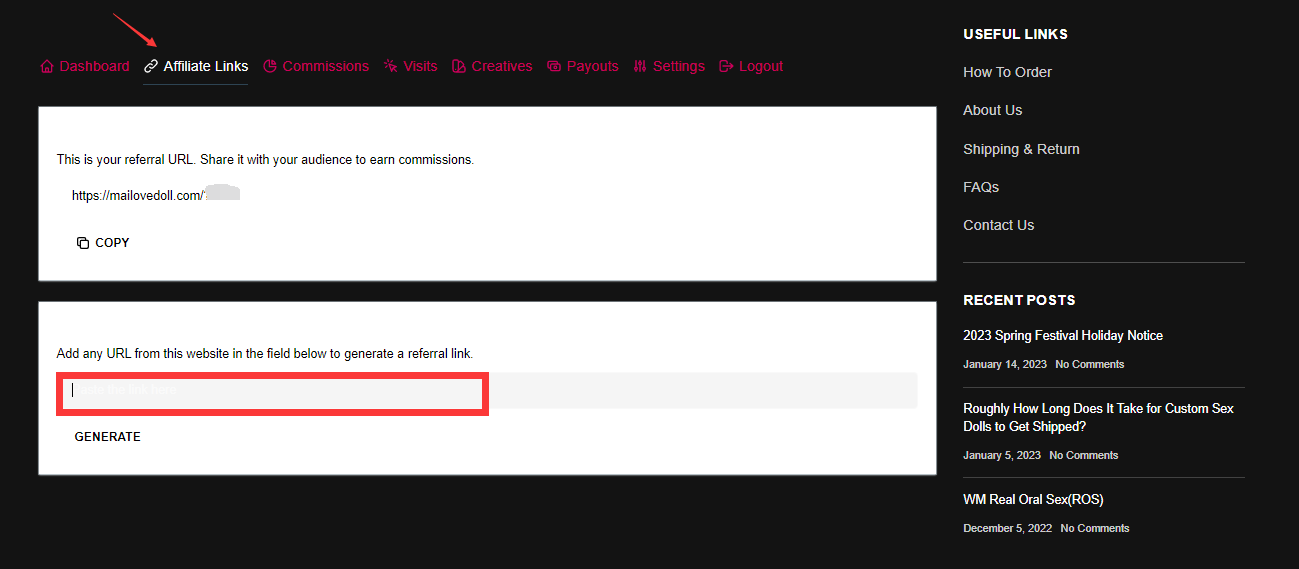 4. If you already have an account, click the Have an account? Log in! button to directly enter your account
If users purchase Mailovedoll love dolls through this link, we can offer a 5% commission.
For example, if you purchase a Mailovedoll love doll for $1000 through this link, you will receive a commission of $50.
Start earning today! If you have any questions, please let us know: info@mailovedoll.com