The sex doll industry has taken the world by storm and its popularity has already reached every corner of the world. the reason for its exponential growth can be attributed to the availability of all types of sex dolls. Whether you're into small tits or big ass or whether you love to get into a relationship with a sex doll having curvy ass and big boobs, you can get it all from a reputable sex doll website.
If you're a first-time buyer and confused about which sex doll you should bring home, then this guide is meant for you. We know that a sex doll is not just a toy, it's rather a gateway to your happiness and satisfying life. But at the same time, choosing a high-quality TPE or Silicone sex doll is no easy feat – especially for first-time buyers. Many of the sex dolls you see on random sites are low-quality and deform quickly over time – not to mention they break very quickly. Given this, we have scoured the internet and come up with a list of sexiest dolls available in 2021 that can create the sex life you always fantasized about – without any promises or negative things.
Top 10 Sexiest Sex Dolls of 2021
We acknowledge that sex is a highly personal affair and everyone has unique tastes and preferences when it comes to lifelike sex dolls. The sexiest sex doll is the one that brings you absolute satisfaction and sexual gratification whenever you feel the need.
Below is a curated list of the top 10 most sought-after sex dolls that can take your sexual energy to another level in the bedroom. All of them are of high quality, super realistic, and will last for many years. Let's read them up.
Big booty BBW sex doll Anny
Anny is one of the sexiest dolls on the market hands down. Being 163cm tall, she is as realistic as a sex doll can get. With just a gaze at her mesmerizing body, you are going to fall in love with her. She has big breasts, seductive eyes, a curvy ass, and thick hips. Her perfect, long hair complements her fair skin color. She loves you to pull her hair from the back while practicing doggy style with her and squeeze her F cup breasts and pinch her nipples.
Anny knows what a guy wants from a sexy girl and she is well-trained to fulfill all your sexual fantasies. With her by your side, you won't ever think of any other girl. Gaze at her realistic eyes as she deep-throats your cock and feels what it's like to get a BJ from one of the sexiest models on Earth. Her anatomical love holes are always ready and wet to stroke your manhood. Made of TPE material, her realistic 5 feet, 33 in height, and 52.5kg weight make you feel like having sex with a real woman. On top of that, she is super flexible, allowing you to try any sexual position on her.
Blonde hair BBW sex doll Brenda
Blonde, tall, and sexy, Brenda takes our second spot. She has got everything a man expects from her sexual partner. Made of the highest-quality TPE, Brenda has the same height and weight as does Anny, but she has got blond hair and a tight waist that makes her a darling of every eye. Being a naughty girl, Brenda knows how to satisfy her man like no other girl would.
Her skin is as soft as it can get and her beautiful eyes and pierced nipples can make any man go crazy for her. She has an inviting vagina that can take your cock 7-inch deep inside it and let you creampie. What's more, her tight anus is always wet to seduce you into getting naughty with her. Just imagine coming back home after a tiring day at work and the first thing you see is Brenda lying naked on your couch with her legs open – the stage is already set for you to relieve your stress off and get lost into her loving arms. Bring her home right now and you won't have to imagine it anymore.
Realistic SSBBW Sex Doll Aliana
Aliana is the kind of girl you see in anime series and porn scenes. If you have a thing for "Big Beautiful Woman", then she is an ideal choice for you. Her busty voluptuous boobs and thick waist and hips will increase your appetite for bedding with her. Alaina is 55.1 in tall and weighs 38 kg, making it easy for you to carry her around and practice the wildest of sex positions you have always dreamt about.
Her huge breasts are a treat to lick, suck, and squeeze. Groping her tits while you enjoy her amazing vagina and anus is the best experience a man can get during sexual intercourse. Her boobs also serve as perfect pillows at night, giving you the most peaceful sleep.  Her mouth-watering curves and natural face will make you want to have sex with her every time you see her. To spill out a secret, Aliana loves you to go hard and rough and try some of the kinkiest positions you often see in hardcore porn movies.
Mature BBW Female Sex Doll Hayley
Have you ever watched a porno movie and been turned on by a MILF scene? If yes, then Hayley is your dream woman. She has huge boobs, blonde hair, blue eyes, and breathtaking curves. Her skin is so soft and smooth that if you close your eyes and run fingers over her body, you won't feel as if you're sitting next to a sex doll or a real woman.
She is 5ft 2 inches and 45kg in weight and can give you oral, vaginal, and anal pleasure anytime you want. Her metal skeleton and lifelike elasticity allow owners to bend her in any position and feel what it's like to enjoy your dream woman. What makes her a hot-selling product is her affordability. Priced at $1230, she is a clear budget winner in my review. Don't miss a chance to sleep with her and make your nights colorful and pleasurable.
Mysterious Night Elf Sex Doll Saige
Saige is a cute Japanese girl who loves to dress up in sexy costumes and give you the best sex every single day. If you're bored with your sexual life and want to do something kinky, then bring Saige to your bedroom and she will keep you satisfied all the way. Don't judge her by her cute face and curvy body, she likes to test your limits in bed.
Her sweet 3D face, long silky hair, and blue eyes can make you fall in love with her at first sight. This high-end TPE doll has juicy lips and a kissable mouth that will bring novelty to your romantic life. With anal, oral, and vaginal capabilities, Saige, in my opinion, is the sexiest Asian love doll on the market today.
Hot Sex Doll Anika
Anika is the Latina girl your mother always warned you about. She can get any man she wants with just one seductive look in the eye. She has beautiful brown skin, long black hair that she wants you to pull, and anatomical love holes. Because of her lightweight, you can try some of the weirdest sex positions on her.
Her TPE skin is lifelike and a pleasure to play with. She wants her master to foreplay with her before every intimate session; caress her beautiful feminine face, kiss her soft and seductive lips, and run your fingers through her smooth hair while you suck on her perky tits. Then, lay her down and let your manhood unleash on her love holes and slide your cock in her tight vagina and juicy ass until you ejaculate – multiple times.
Fairy Fantasy Sex Doll Kenna
If you want to spend a chunk of your money on a high-end Japanese doll, then Kenna is your ideal choice. Priced at $2465, she is one of the sexiest Asian dolls with stunning small breasts, beautiful butt, glowing eyes, and soft pink nipples. She has an elastic body and she loves to bend in acrobatic sex positions – the one you see in sensual porno movies.
Her appealing vagina and anatomical anus can change anyone's life for the better. She is the sex doll you're willing to bring home and have sex with every single day. When dressed in a sexy outfit, she will amaze you every time you look at her.
BBW Fat Redhead Sex Doll Anya
This sexy doll is a good choice for boobs man. She has huge boobs and a wonderful curvaceous ass that is waiting for your cock to rock her world. She is perfect marriage material and has got all the amazing features that make her your long-term companion. Her amazing red hair, seductive blue eyes, and thin waist make her fair skin look even more sexy and appealing.
She is the kind of woman you cannot take your eyes off. With her lying on your bed naked, you'd have nothing on your mind but jump on her and let your sexual desires take control of her. She loves you to put your face between her H cup tits while you enjoy her vagina.
Young Fashion Sex Doll Jaylah
If you love a naughty Asian girl with alluring looks, then Jaylah is what you need to bring home right now. She is so flexible that she can easily bend in any sex position you can imagine – even the ones you can't even think of trying on a real woman.
Jaylah is meticulously designed to fulfill the sexual desires of her owner in ways that you dream of. Her boobs are a bit bigger compared to her voluptuous ass and sexy thin waist. Her puffy nipples are always full of milk to feed you during and after sex. All she wants from you is to love her and give her proper time and she will bring novelty to your sexual life and never let you get bored.
Big Tits Realistic Sex Doll Madison
The last high-end TPE doll on our list is none other than big-boob Madison. She is not as shy and decent as she appears in the photo. She loves to get rough with her man when no one is around. With her by your side, brace yourself for some of the wildest sexual experiences of your life. Her big tits are a treat to suck, fuck, and play with while you dominate her love holes.
Madison is 156cm and 43.5 kg and has thick hips, round ass, thin waist, and curvaceous body. Her black curly hair adds to the beauty of her super-realistic face. When dressed in Black or Red, she can take you down with just one gaze in the eyes and you'll be a lucky person to fall in her trap. Just bring this super-sexy doll home and enjoy your sexual life to the fullest.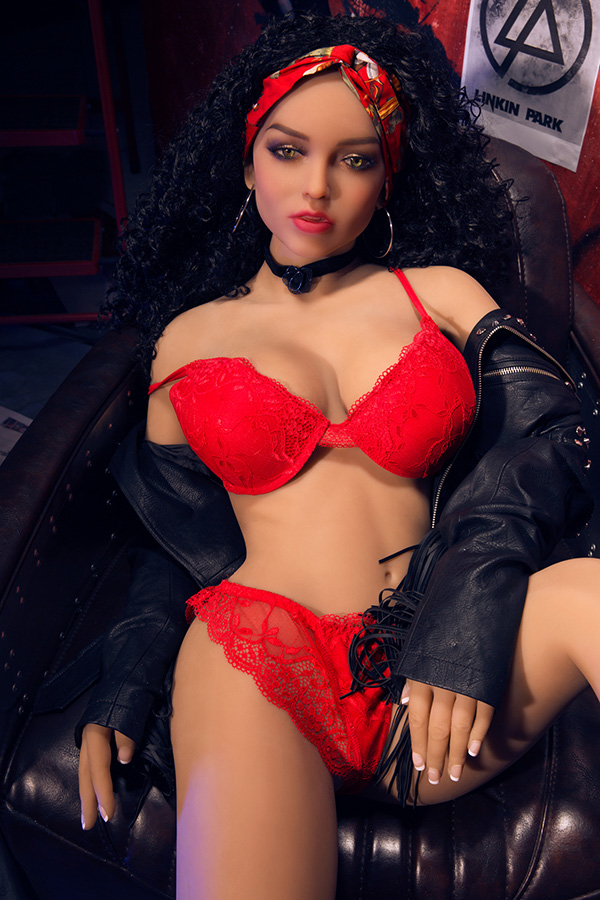 Final Remarks
To wrap it up, this article has provided a comprehensive list of some of the sexiest lifelike sex dolls available in the market in 2021. All the dolls discussed above are high-quality, made of TPE, and long-lasting. The list has made it easier for you to narrow down your dream doll and bring it to your bedroom.
Choose the sex doll that suits your sexual needs and preferences. If possible, you can have more than one doll, if you're into a threesome. In any case, I hope this guide has helped you in your hunt for a sexy TPE doll. Feel free to ask any questions.