We have established long-term and stable relationships with sex doll manufacturers of all major brands (such as WM DOLL, JY DOLL, 6YE DOLL, SANHUI DOLL, M DOLL) to give you the best price.
Order Process
The process from ordering to delivery
After paying, we will produce the ordered product, then we will send it to you within approximately 5 to 15 days. The following process is a simplified version, please click here for detailed purchase process.
1. Please order the product.
2. Please confirm your order and payment.
4. Product, inspect, package and ship.
5. Product delivery
Please check How to order and Shipping &Return for more details.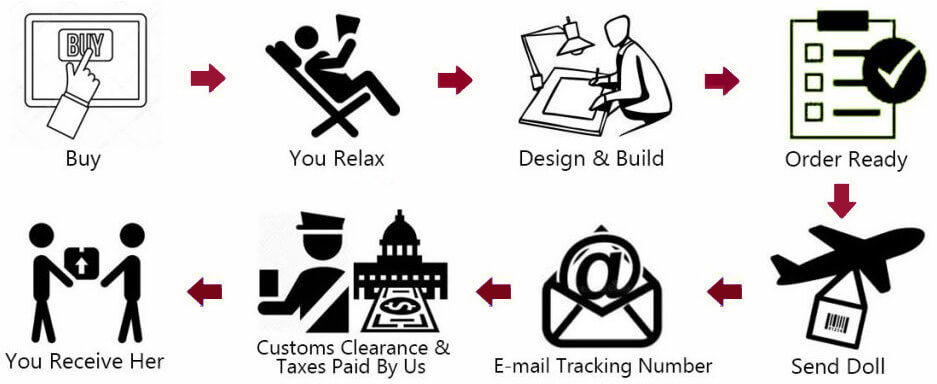 About canceling order:
If you cancel your order within one hour, we will refund your order in full. (Excluded PayPal and credit card transaction fees. If necessary, you need to contact PayPal or Bank for a refund)
If you cancel your placed order within 1-6 hours, you need to pay a 20% processing fee.
About Payment
You can pay with PayPal, credit cards, debit cards, and bank transfers. Please make sure that the information you provided is correct in order to complete the payment process.
We employ SSL encryption technology to ensure your payment information is always safe.
We use the payment system of a secure payment agency, so you don't worry about payment security.
About delivery
We offer a completely free (Not need to pay any other expenses, including import duty, Tax & VAT, etc.) global shipping service to deliver your sex doll. It usually takes about 7 to 15 days for you to receive it since we need to contact the manufacturer for producing and processing, plus the shipping time that the international courier spends moving it from the warehouse to your door.
We cooperate with FedEx, DHL, and USPS to professionally handle all deliveries of our products to your door.
Before your item is shipped, we only use a box with no logos, no signs, or any recognizable patterns on the outside of the container to pack your sex doll. We also take special care, using some protective materials and shockproof foam in the box to protect your purchase during delivery. All of this is done to ensure your absolute privacy as well as the integrity of the package during shipping.
If you have any special requests such as you want her to be delivered on Saturdays or a particular time on weekdays. And if you do not want to receive the order at your home. Just let us know after ordering, we will quickly resolve your request.